California Mortgage Rate Forecast 2021: A Three-Percent Kind of Year?
California mortgage rate forecasts for 2021 suggest that home loan rates could rise slightly next year but remain within the 3% range. All in all, it's expected to be another good year for home buyers and homeowners.
Here is an in-depth look at the latest mortgage rate trends in California, along with a forecast for 2021.
California Mortgage Rate Trends & Analysis
In 2020, home loan interest rates tumbled to a series of record lows. It became a kind of pattern. They would fall to an unprecedented low, and we would think that was the "glass floor." They couldn't possibly fall any farther. And then the next week rates would fall again, setting yet another all-time record low. It has certainly been a year full of surprises.
The chart below will help you visualize California mortgage rate trends during 2020. It shows the average rate for a 30-year fixed home loan (the most popular option among borrowers) over the past year or so.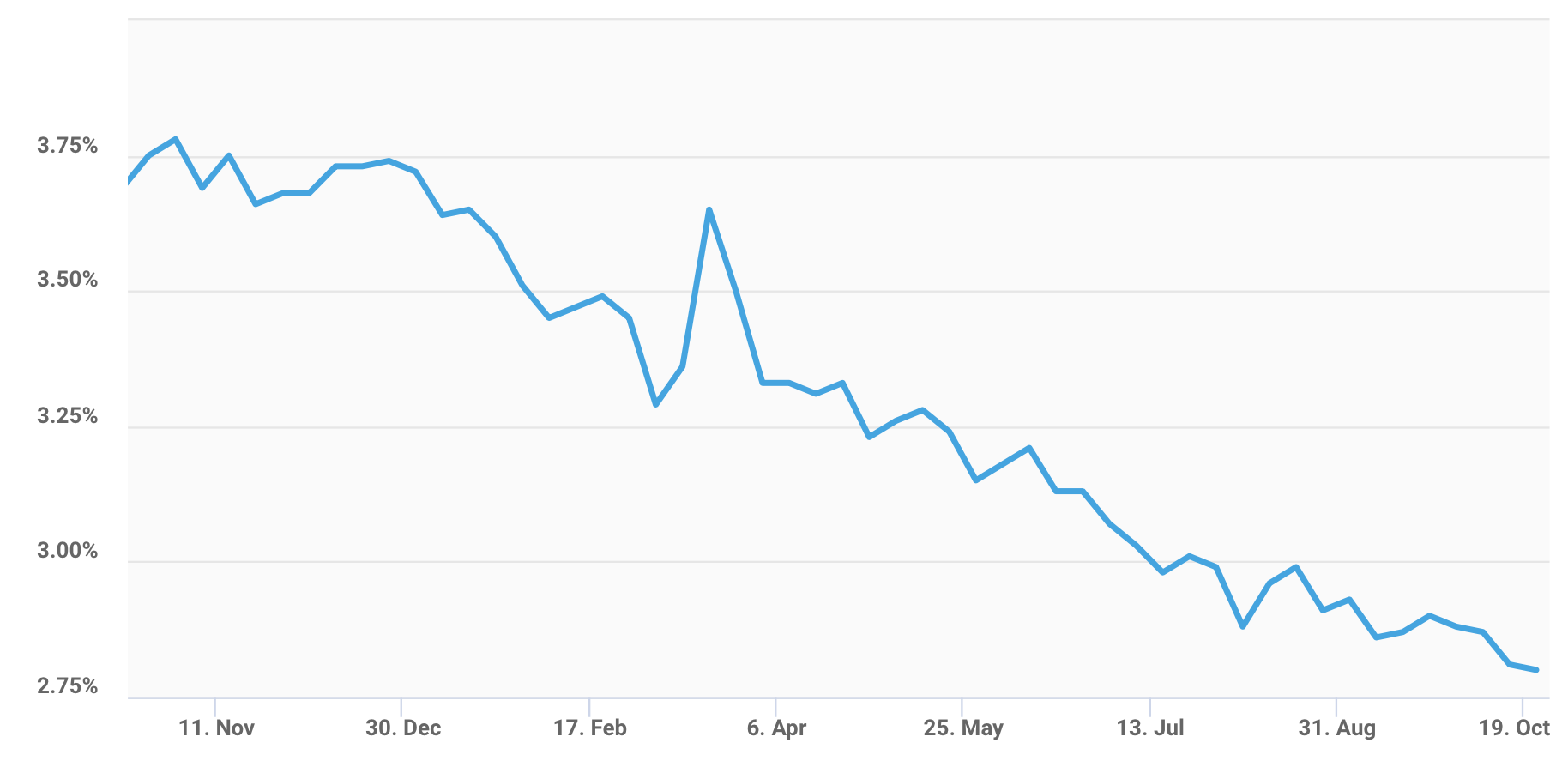 As you can see from this chart, we've seen a more-or-less downward trajectory over the past year. At the end of last October, 30-year fixed mortgage rates in California and nationwide were averaging around 3.7%. Now, as we enter the last week of October 2020, the average rate for a 30-year fixed home loan is around 2.8%.
That's a drop of nearly one percent over the course of the year.
This is partly due to policy measures taken by the Federal Reserve, in response to the coronavirus pandemic and economic downturn. To help spur the economy, Fed officials reduced the federal funds rate to nearly zero. While the Fed does not control mortgage rates directly, their policies and actions do have an indirect effect on consumer interest rates. We can see that clearly in the mortgage rate chart above.
Forecast & Outlook for 2021
So that's where we are right now, as of late October 2020. But what about the future? What's the forecast for California mortgage rates, going into 2021?
While no one can predict future interest rate trends with complete accuracy, experts seem to believe that borrowing costs will remain near historically low levels throughout 2021.
A recent forecast for mortgage rates in California and nationwide predicted that the average rate for a 30-year fixed mortgage loan would hover around 3% for most of next year. That forecast was issued by the economic and housing research team at Freddie Mac, in October of 2020. It's a quarterly forecast extending through the end of next year.
Here's a relevant quote from the report:
Given weakness in the broader economy, the Federal Reserve's signal that its policy rate will remain low until inflation picks up, and no signs of inflation, we forecast mortgage rates to remain flat over the next year. From the third quarter of 2020 through the end of 2021, we forecast mortgage rates to remain unchanged at 3%.
Of course, we know that California mortgage rates are ever-changing. They go through minor fluctuations on a daily and weekly basis. Additionally, different borrowers qualify for different interest rates based on their credit scores, the type of loan being used, and other factors. So there are several variables that can affect the rate you receive when buying or refinancing a home.
On average, however, this particular forecast predicts that 30-year mortgage rates will hover around 3% in 2021. That would be a slight increase from where we are right now. When this article was published, in late October 2020, those 30-year rates were averaging around 2.8% (a record low at the time).
Good News for Home Buyers and Refinancing Homeowners
So the latest Freddie Mac forecast seems to suggest two things:
California mortgage rates could increase slightly as we move into 2021.
But they're expected to remain relatively low over the course of next year.
A similar forecast, issued by the Mortgage Bankers Association (MBA) on October 21, predicted a similar trend. The MBA's analysts expect 30-year loan rates to average 3.1% during the first half of 2021, and inch upward a bit toward the end of next year.
This is good news for California home buyers and refinancing homeowners. In fact, low rates are one of the key reasons we've seen so much demand within the housing market even as the broader economy sputters. Home buyers in California and nationwide have been motivated by low borrowing costs. This will remain a factor into 2021 as well.
Related: "Buying a Home in California in 2021"
As for homeowners, now could be a great time to refinance an existing mortgage loan.
In an October 22 mortgage rate survey update, the research team at Freddie Mac said that "most low- and moderate-income borrowers who purchased during the last few years stand to benefit by exploring refinancing to lower their monthly payment."
That's worth repeating. If you bought a home in California in the past few years, and your current mortgage rate is well above 3%, you might benefit by refinancing your existing loan. Please contact us if you have questions about that.
Disclaimer: This article contains mortgage rate forecasts for California and the rest of the nation, extending into 2021. Those predictions were issued by third parties not associated with our company. We've gathered them here as an educational service to our readers.