Low Rates Make It a Good Time to Refinance in California: Fall 2020 Update
Key highlights from this report:
Thirty-year mortgage rates just fell to (another) record low.
They were averaging 2.78% during the first week of November 2020.
For many homeowners in California, it's a good time to refinance a mortgage.
Bridgepoint Funding can help you determine if it's the right time for you.
---
If you've been following mortgage rate trends over the past few months, you might be suffering from "record fatigue." It seems that every week there's a new record-low for mortgage rates. Well, here we go again.
On November 5, 2020, the research team at Freddie Mac reported that the average rate for the popular 30-year fixed mortgage loan had dropped to an incredibly low 2.78%. That was the lowest it had been in 50 years, to date. And rates could fall even further in the coming weeks.
In light of these trends, a lot of homeowners in California are now wondering: Is it a good time to refinance a mortgage loan in California? And for many folks, the answer to this question is a resounding "yes."
If your current rate is significantly higher than 2.8%, you could benefit from refinancing your existing mortgage loan into a new one. You might be able to reduce your monthly payments and the total amount of interest paid over time. Those are two big advantages for homeowners. So it's worth looking into, at the very least.
Another Record Low for Mortgage Rates, in November
California mortgage rates have dropped quite a bit since the start of 2020. As of the first week of November, the average interest rate for a 30-year fixed home was nearly one percent lower than it was in early January. That's quite a drop, and it's partly why now is a good time to refinance a mortgage loan in California.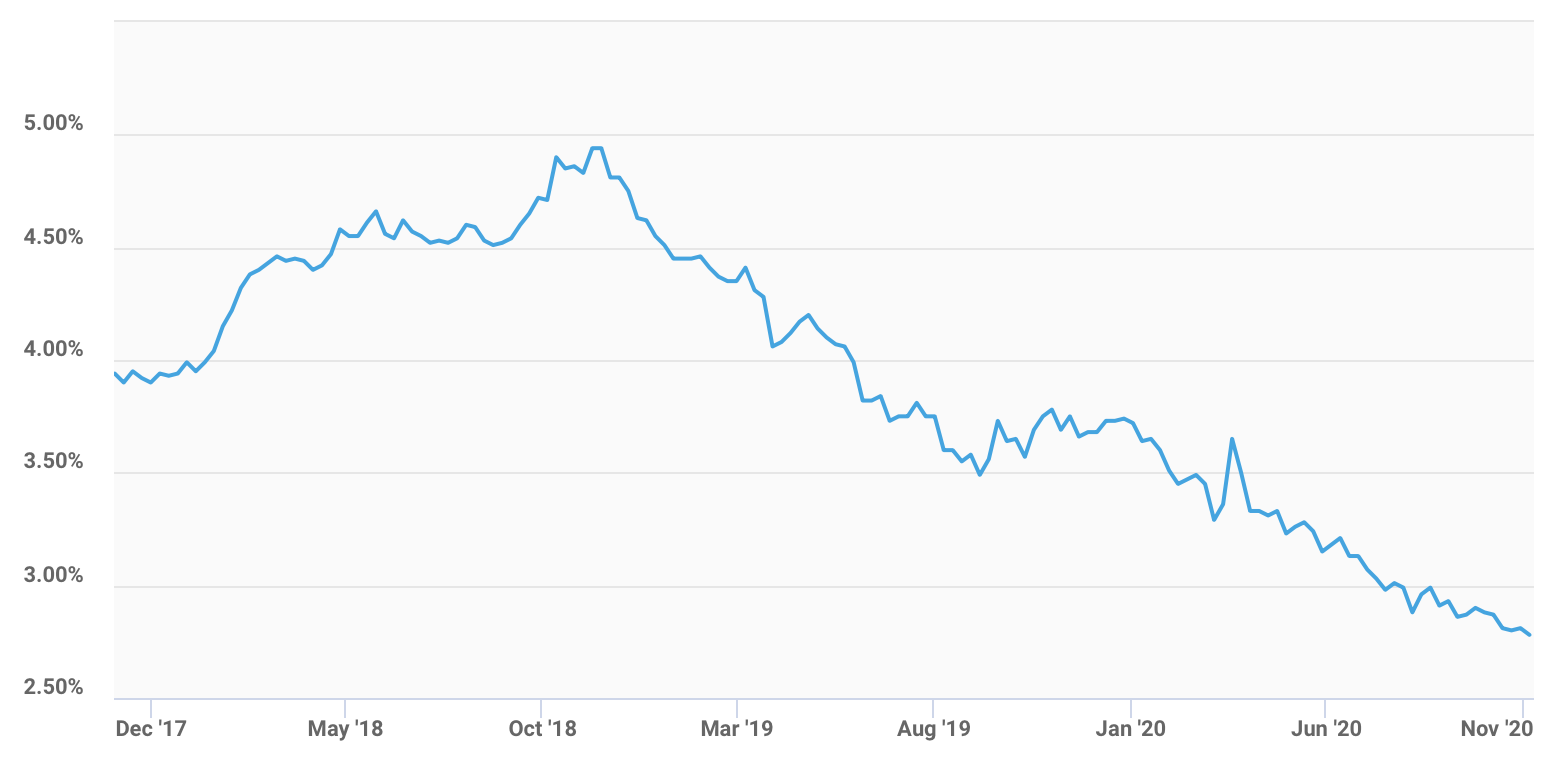 If a picture is worth a thousand words, the image above speaks volumes. This chart was created based on the weekly mortgage-rate survey conducted by Freddie Mac. It shows the average rate for a 30-year fixed home loan over the past three years or so. And as you can see, the trend has been mostly downward since early 2019.
When this chart was published, on November 5, the team at Freddie Mac wrote:
"Mortgage rates hit another record low, the twelfth time this year, due to economic and political ambiguity. Despite the uncertainty that we've all experienced this year, the housing market, buoyed by low rates, continues to be a bright spot."
Refinancing in California: 2020 – 2021 Outlook
This chart also shows why 2020 is a good time to refinance a home in California, for many homeowners. If you purchased your home a few years ago (or more), there's a good chance you have a higher mortgage rate than the ones we're seeing right now. This means you could be a good candidate for refinancing.
California homeowners refinance their home loans for different reasons. Some use the "cash-out" refi option to convert a portion of their home's equity into cash, perhaps to pay for a renovation, travel, or college tuition. Others refinance to switch from an unpredictable ARM loan into a more stable fixed-rate mortgage.
But for most homeowners who refinance in California, the number-one goal is to reduce the size of the monthly payments and save money going forward. And with rates as low as they are right now, in fall of 2020, it's a good time to pursue this refinancing strategy.
Of course, we don't know how long interest rates will stay in their current record-low range. Eventually, when the broader U.S. economy shows signs of improvement, the Federal Reserve will begin to ease up on their stimulus measures. This could cause California mortgage rates to creep upward in the future. It's a common pattern, one that we've seen many times in the past.
An October 2020 forecast issued by the Mortgage Bankers Association predicted that 30-year loan rates will average 3.1% during the first quarter of 2021. That would be a slight increase from where we are now, and it could close the refinancing "window" for some homeowners in California.
But as of right now, it's still a good time to refinance for many homeowners across the Golden State.
Homeowners: We Can Help You Assess Your Situation
Mortgage refinancing typically comes with fees and charges, just like a regular purchase loan used by home buyers. The origination fee is one common example. In a California refinance scenario, the key is to ensure that your long-term savings will eventually surpass your up-front closing costs.
In mortgage lingo, this is often referred to as the "break-even point." And we can help you measure it.
Bridgepoint Funding has been serving the mortgage needs of California home buyers and homeowners for nearly two decades. We can help you assess your current situation to determine if refinancing is right for you. With rates hovering at record lows, you owe it yourself to at least explore your refinancing options.
Please contact us with any mortgage-related questions you have, or to find out if now is a good time to refinance your loan.