Will 2021 Be a Good Time to Buy a House in the Bay Area?
In a previous blog post, we outlined three important trends Bay Area home buyers should know about when buying a house next year. Today, we will revisit that topic with an updated look at mortgage rates and housing prices, and with a specific question in mind.
The question of the day: Will 2021 still be a good time to buy a house in the San Francisco Bay Area, from a cost perspective?
2021: A Good Time to Buy in the Bay Area?
Let's start by taking a look at the latest mortgage rate trends, as of fall 200. Since most home buyers in the Bay Area use mortgage loans to help finance their purchases, this is an important topic to follow. And there has been nothing but good news for borrowers lately.
According to the weekly survey conducted by Freddie Mac, the average interest rate for a 30-year fixed mortgage loan dropped to 2.87% during the week of October 8, 2020.
That number is significant for two reasons:
It was the lowest average rate in the last 50 years (as of October 9, 2020).
It was 70 basis points (0.7%) lower than where we were at the start of 2020.
Today's historically low mortgage rates make it a good time to buy a home in the Bay Area, from a cost perspective. They've also contributed to the steady demand from buyers that we've seen in recent months.
So that's where we are now. But what about in 2021? Will it still be a good time to buy a house in the San Francisco Bay Area, as far as interest rates go?
Such things are hard to predict even in stable times. And the U.S. economy has been less-than-stable over the past few months. As a result, it's hard to predict what mortgage rates and home prices will do through this year and into 2021.
But based on current trends and forecasts, it seems likely that home prices in most Bay Area cities will continue to climb over the coming months. And mortgage rates could inch upward as well.
Are Mortgage Rates 'Bottoming Out' in Fall 2020?
The chart below shows the average rate for a 30-year fixed mortgage loan over the past few years. The far-right side shows this year, 2020. As you can see, rates have fallen for much of the current year. But that could very well change as we move into 2021.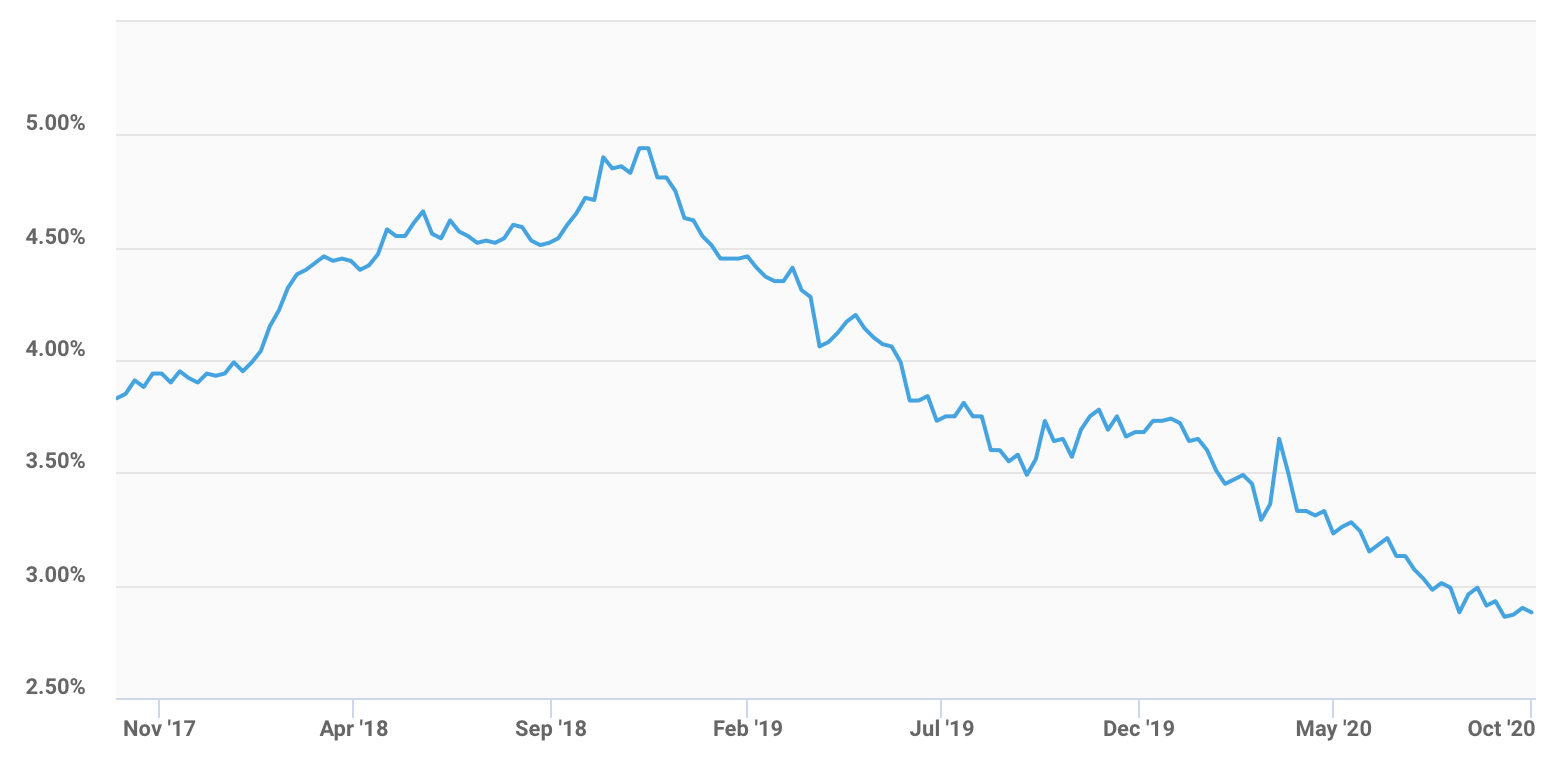 Recent comments from the research team at Freddie Mac (which created the above chart) suggest that mortgage rates could be bottoming out right now — or might be close to doing so.
On October 8, Freddie Mac's researchers wrote:
"The year-long slide in mortgage rates seems to be ending as rates have flattened over the last month and the economic rebound has slowed."
Again, the future of interest rates is often murky at best. But we could be witnessing the start of a "leveling off" period for mortgage rates. They might hover within their current range for a while, and possibly even tick upward in 2021.
So, getting back to the question at hand: Will 2021 be a good time to buy a home in the Bay Area?
From a mortgage rate standpoint, buyers have a lot of incentive right now. The truth is we've never seen borrowing costs fall this low. But industry forecasters are predicting a slight rise in rates going into 2021.
In its latest Market Forecast, published in September 2020, the Mortgage Bankers Association (MBA) predicted that the average rate for 30-year fixed home loans would rise to around 3.1% by the first quarter of 2021.
Granted, that wouldn't be a huge increase from where we are right now. But it would bring higher borrowing costs for Bay Area home buyers in 2021. Something to consider!
Bottom line: From an interest rate perspective, now is a good time to buy a home in the Bay Area, and those conditions could persist into 2021. But there's a chance borrowers will see slightly higher rates over the coming months.
Rising Home Prices a Bigger Concern
Will 2021 be a good time to buy a home in the Bay Area? It's seems to be shaping up that way.
This year, the regional real estate market was behaving as if COVID-19 never even happened. The market has been surprisingly resilient, with a high level of sales and rising home values. This will likely continue into 2021.
From a home buyer's perspective, rising house prices are more of a concern than the possibility of an uptick in mortgage rates. There are two reasons for this:
If mortgage rates do rise between now and Q1 or Q2 of 2021, it probably won't be by much. If they only rise slightly, it would only have a minor impact on affordability.
Rising home prices, on the other hand, could reduce affordability to a larger degree. There's also a bit more certainty here. Given the current supply-and-situation across the Bay Area, it seems highly likely that prices will continue to rise as we transition into 2021.
In a September 2020 market update from the California Association of REALTORS®, the industry group stated:
"At the regional level, almost all major regions posted double-digit price increases from last year. San Francisco Bay Area had the highest median price increase, rising 18.7 percent from last year…"
Clearly, COVID-19 hasn't had much of an impact on house values in our region. The same has been true for much of the U.S.
From a cost perspective, it might be better for Bay Area home buyers to make a purchase sooner rather than later. If current trends are any indication, we could see higher prices in the months ahead.
But even those who buy a house later in 2021 will probably still benefit from rising equity levels. So there's a strong incentive either way.
Bottom line: At this stage, home-price erosion does not appear to be a concern within the Bay Area real estate market. House values in most cities across the region have continued climbing straight through the pandemic. And that's expected to continue for the foreseeable future.
Overall Housing Market Stability
Is the housing market stable right now? Does it make sense to buy a home? Is this a "good time" for buyers? These are valid questions and concerns, given the issues we've seen in other aspects of the economy.
Here's what it boils down to. The Bay Area (and broader California) real estate market has taken everything the pandemic has thrown at it — and survived. So we have every reason to believe the housing market will continue to show strength going into 2021.
As we've written in the past, Bay Area home prices have held up surprisingly well during the coronavirus pandemic and currently show no sign of weakening.
An October 8 report from ATOMM Data Solutions, a real estate data company, highlighted "county-level housing markets around the United States that are more or less vulnerable to the impact of the Coronavirus pandemic."
They analyzed a number of factors including: percentage of homes currently facing possible foreclosure, the portion of homes with mortgage balances that exceed the estimated property value, and the percentage of local wages required to pay for major home ownership expenses.
The company then created a list of the 50 most "at-risk" housing markets in the country, at the county level. Not a single Bay Area county appeared on that list. That's largely because of the strong demand for homes in our region, and the overall market stability.
Bottom line: No one can predict the future. But based on current trends and analysis, it seems that 2021 will be a good time to buy a home in the Bay Area.