Will Home Prices in California Drop Later in 2021?
It's probably the most burning question relating to the California real estate market right now. Will home prices in California drop later in 2021? And what about next year? What's the outlook for 2022?
While no one can predict such things with certainty, it seems unlikely that home prices in California will drop during 2021. The more likely scenario is that house values will rise more slowly over the coming months, compared to what we saw during the latter half of 2020.
Of course, real estate conditions can vary significantly from one city and region to the next. From a real estate market perspective, California is a very large and diverse state. Some markets are hot right now, with buyers competing for limited inventory. Other markets across the state can be a bit more "balanced."
Despite these differences, home prices will probably continue to rise in most California cities throughout 2021.
Will California Home Prices Drop in 2021?
If you look at real estate trends for the past year, you can see why it's unlikely that California home prices will drop significantly in 2021. If recent housing market trends are any indication, home values will probably continue to climb (when measured year-over-year).
According to the real estate data company Zillow, the median home value for California rose by nearly 11% over the past year or so. This was reported in April 2021. Not even a global pandemic and economic slowdown could prevent house prices from rising over the past 12 months.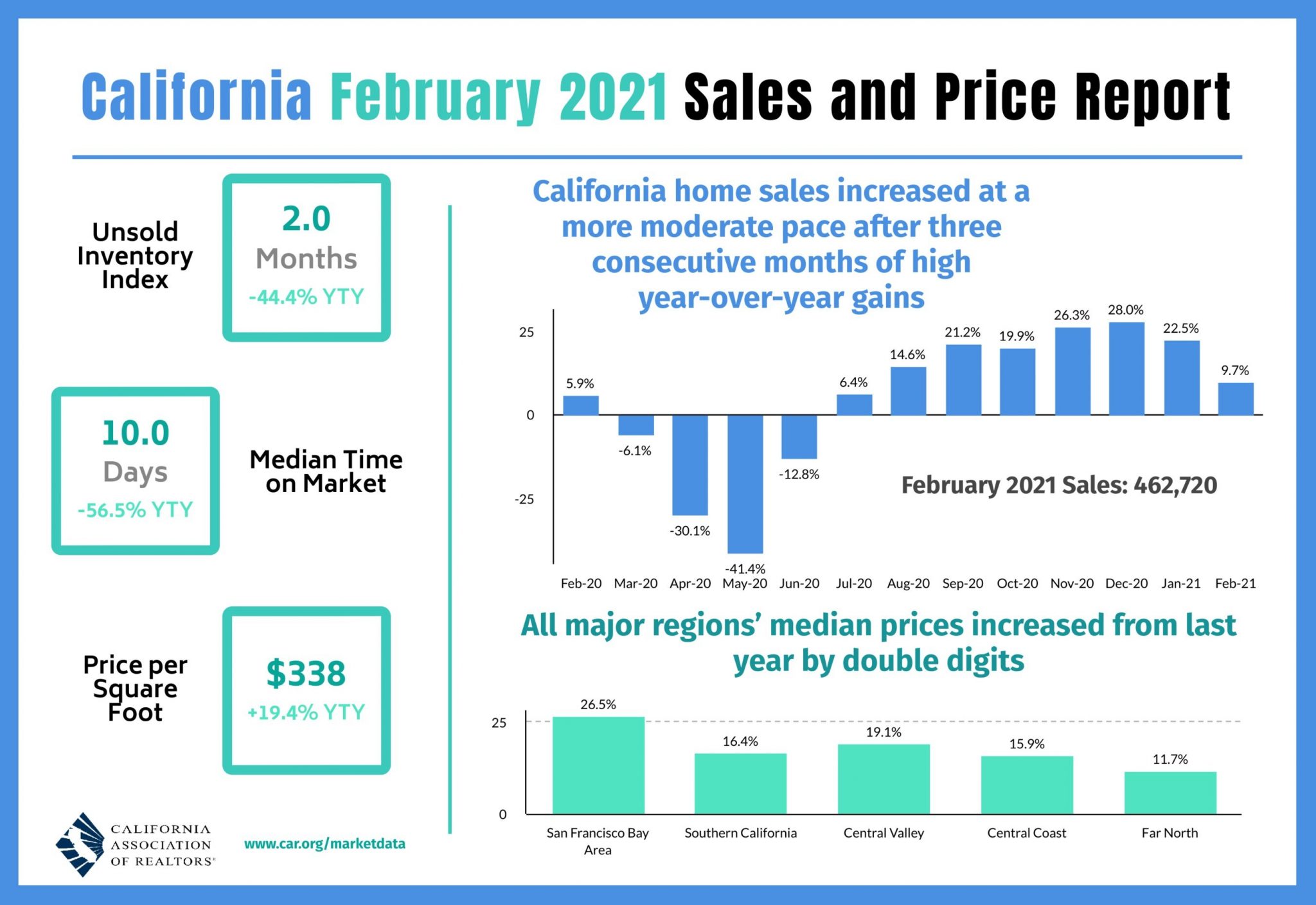 Similarly, a March 2021 report from the California Association of Realtors showed a significant increase in the median sale price for existing single-family homes. But that report also showed that prices were largely unchanged from January to February of this year. So we might be witnessing start of a cooling trend, where home values are concerned.
According to Jordan Levine, vice president and chief economist for the California Association of Realtors, rising interest rates could cool the housing market during the latter part of 2021.
"While rates are off their record lows, they are still relatively low by historical standards," Levine said. "Recent increases in mortgage rates will likely slow the pace of price growth in the coming months but will also motivate those who truly want to buy to enter the market before rates start moving further up."
Will Higher Mortgage Rates Affect the Housing Market?
During the first week of January 2021, the average rate for a 30-year fixed mortgage loan sank to an all-time record low of 2.65%. That was the lowest reading in five decades. This led to a surge in sales, which in turn boosted home prices across California and nationwide.
Since then, mortgage rates have climbed. While they are still low from a historical standpoint, they've risen quite a bit from the record low set back in January. During the first week of April 2021, the average rate for a 30-year fixed mortgage loan was 3.18%. That's more than half a percent higher than where it was at the beginning of the year.
Which brings us back to the question at hand. Will home prices in California drop later in 2021, due to a rise in mortgage rates or other factors?
Again, it seems unlikely that house values statewide will dip anytime soon. Several forecasts have suggested that prices could rise a bit more slowly going forward, and that's probably a good thing in terms of affordability. But the general consensus is that home values in most California cities will continue to creep upward through 2021 and possibly into 2022.
Related: Will mortgage rates go up or down?
Rising Prices Create Urgency Among Buyers
Home buyers in California now have two reasons to have a sense of urgency regarding their purchases:
House values have risen significantly over the past year and could continue to climb throughout 2021.
Additionally, there is always the chance that interest rates could creep upward as well.
Mortgage rates have already risen above the range experts were forecasting earlier this year. And there's a chance they could continue to climb, going forward.
But rising home prices in California represent a greater concern for many buyers, especially those who were on a tight budget. Even if we see a slowdown or "cooling period" for home values, the general outlook is that they'll keep climbing to some degree through the end of the year.
Again, much of this is speculative. Real estate forecasts and predictions are the equivalent of an educated guess. It seems logical that California home prices won't drop much in 2021. The past year brought the exact opposite, with prices climbing steadily in most cities. But we can't say for sure what might happen down the road.
Need mortgage financing? Bridgepoint Funding has been helping California home buyers and homeowners for nearly 20 years. We offer a broad range of mortgage products, including FHA, VA and conventional loans. Please contact us if you need help financing a home purchase, or if you have mortgage-related questions.